DSPAH New Initiative : Animal Health Start-up Competition Vol.8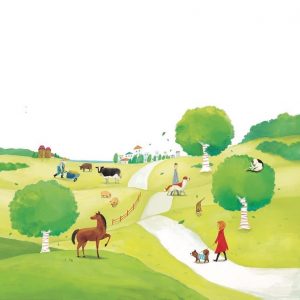 Application deadline:December 20th, 2021
               Program Outline
SARR LLC and DS Pharma Animal Health Co., Ltd (DSPAH) today announced a call for presenters at their annual pitch event, started in 2016, for the purpose of exploring the technology or business seeds that will lead to DSPAH's new business.
DSPAH is an R&D-based pharmaceutical manufacturer for animals which have a broad network with 100 hundred animal hospitals in Japan. They provide various medicines and inspection services in the fields of industrial animals such as livestock and the fisheries in addition to companion animals such as dogs and cats.
This program targets researchers and startups interested in this sector and business companies investigating new business with innovative technologies. DSPAH would like to search for promising project and form a business partnership with them.
We will provide previous mentoring for applicant to make their presentation better. After the presentation in the pitch event, selected teams as candidates will deepen discussion on operationalization of the project with DSPAH. The grand prize winner will get funded for feasibility study with DSPAH.
The previous results of this program are as follows: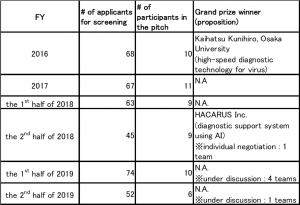 Sumitomo Chemical Co., Ltd., Sumitomo Dainippon Pharma Co., Ltd., and SB Bioscience Co., Ltd., which are DSPAH's group companies, also participated in the pitch last year. We plan to reach out each group company this year as well. Several projects have already been started to be commercialized through this program. DSPAH is serious about launching new business!
Animal Health is inseparable in enriching our lives, and it is a field that is receiving more social attention than ever before. The fact that there were two applications from overseas in the second half of last year's program confirms that Animal Health has global needs. In addition, we believe that Animal Health is very attractive as an approach for researchers, startups, and companies aiming to finally apply their technology to humans. We encourage your participation.
【Outline】
・Theme: New Business Proposition that Supports Animal Health
・ Sector: Technologies and services related to diagnosis or health maintenance of animals (not limited to pharmaceuticals, inspections, medical devices)
Especially this time, we focus on the projects related to (1) to (3) listed below. In either case, it needs to be linked to the support of veterinarians' clinical activities.
(1) Detection of presymptomatic diseases
A presymptomatic disease is a condition judged to have a minor abnormality by vital signs or clinical tests even though it looks healthy. Important animals for their owners will be possible to extend the healthy life expectancy if we can detect it at this stage.
[e.g.] The technique for detecting the presymptomatic disease of animals by their vital signs /
The system which can inform the owners that their pets have any presymptomatic diseases clearly. etc.
(2) Detection of infectious diseases
It is possible to predict the transition of animal symptoms and treat properly by recognizing the presence or absence of infectious pathogens in animals. The detection is also very important since it is estimated that more than half of human infectious diseases are derived from animals.
[e.g.] The technique for visualizing specific genes and proteins in samples in quickly, easily and inexpensively /
The technique for increasing precision the detection of infectious diseases easily.
(3) The diagnostic support service of digital health that can be provided to veterinary hospitals via "Anisapo"
"Anisapo" is a veterinary support platform service for veterinarians. We call for the business that can cooperate with this service in order to meet various needs of animal health. Providing service: Skin Consulting Service (Please refer to the web site for details)
・ Qualifications for applicants:
Researcher or startups with business proposals that meet the above theme/Business companies considering commercialization of their technologies (Company size do not matter)
・Time of application:  October 28th, 2021 – December 20th, 2021…*
・Seminar on the business environment of Animal Health and this program:
「Business opportunities in Animal Health:Explore the needs of AI, IoT, Digital Health and early diagnosis」
Date: November 9th, 2021
Time: 5:30p.m. – 7:00p.m. JST
Venue: Online (Zoom)
・Time of Document screening: the middle of December 2020
・Time of mentoring for teams which passed the document screening: the end of December 2020 – the middle of January 2021
・ Pitch event (Screening Commission)
Date: afternoon of February 2nd, 2022…*
Venue: Online (Zoom) /hybird at DSPAH, Osaka…*
Number of presenters: 10 teams…*
Speech time: 11 minutes for speech and 08minutes for Q&A
Your pitch will be released to DSPAH group companies – Sumitomo Chemical Co. Ltd., Sumitomo Dainippon Pharma Co., Ltd., DS Pharma Biomedical Co., Ltd. The examination will be conducted within DSPAH after the pitch event.
※The above matters (…*) are subject to change.
・ How to entry: Please click here to download the entry sheet, and send it to sarr-info@sarr-llc.com by e-mail.
・Inquiries: SARR LLC (PIC: Matsuda, Watanabe)
TEL:+81-75-925-5722 FAX:+81-75-925-5766
E-mail: sarr-info@sarr-llc.com
DS Pharma Animal Health Co., Ltd. (DSPAH)
DSPAH is an R&D-based pharmaceutical manufacturer for animals. It was established in July 2010 by spinning off the animal health business sector of Sumitomo Dainippon Pharma Co., Ltd. Its corporate policy aims at putting happiness into people's lives by harnessing the power of science to create new value and support the health of animals. With more than 70 years of experience as well as achievements in the animal health business, it is developing a "companion animal business" supports the bond between humans and animals, a "livestock and fisheries business" supports people's affluent lives, and a "clinical testing business" that is indispensable for definitive diagnosis through a wholly owned animal clinical testing company (Malpy Lifetech Co., Ltd.). It contributes to the advancement of veterinary medicine by promoting the development of innovative drugs such as DNA vaccines, animal species ghrelin, and mesenchymal stem cell preparations, as well as the development of highly accurate test methods and new unprecedented methods. It is also working on the development of high-precision test method and the introduction of new inspections. In addition, it provides technical and academic services for veterinary medical personnel and various information for the pet owners utilizing its abundant knowledge as a comprehensive manufacturer of veterinary medicine. Its strength point is having a solid foundation for business development in the animal health field, such as networks with veterinary professionals throughout Japan.
It would like to search for the advanced technologies and ideas of universities, research institutes and companies, and go ahead with creation new value and proceeding with studies for early commercialization by integrating them with the management resources of DSPAH Group.
For more details see the website
We hope that the efforts of this program will create new business opportunities related to animal health and that more people will be interested in our company.
* The contents of the 2019 program appeared in the web media of Nikkei Business Publication, Inc., Mirai Kotohajime, so please visit there if you are interested.
(Link is in Japanese)
* Please see the web page below for the release of HACARUS Inc.
"Hacarus and DS Pharma Animal Health Showcase Smarter Connected Animal Health at Medica"